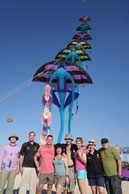 Willkommen auf der Homepage vom TEAM No Limit.
Bei Fragen einfach eine kurze Email.
28. September: Der Flashmob unter den Drachenfesten: Drachenfest der Riesendrachen in Berlin. Bericht ist jetzt online.

27. September: Volker ist auf einem Drachenfest in Taiwan. Leider gibt es auch dieses mal wieder eine Taifunwarnung und man muss im Hotel bleiben.

20. August: Short report of the "unbeatable car"-International Portsmouth Kite Festival 2015.

10. Juli: Short report of the Astana International Kitefestival, 4.7-6.7.2015 in Astana/ Kasachstan.
3. Juni: Volker ist auf dem Drachenfest in Astana, Kasachstan.

9.Juni: Short Report from International Kite Festival Kelantan.
31. Mai: Aerial photography from Kitefestival Tossen.

8. Mai: Ground and Aerial photography from International Kite Festival Cervia.

15. April: Short report of the Wolong Kite Festival in China, Volker visited.
30. März: Short report and some pictures of the Int. Kite Festival in Pasir Gudang and Satun.