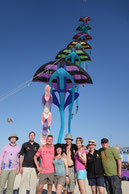 Willkommen auf der Homepage vom TEAM No Limit.
Bei Fragen einfach eine kurze Email.
09. November: Short reports and Pictures of the following Festivals are online:
Nanchang/ Wanli International Kite Festival
Yangjiang International Kite Festival
Wozhou International Kite Festival
18. Oktober: Bilder Galerie vom Drachenfest Grömitz 16-18.10 ist Online. Olli, Wiebke und Joelle waren dort. 

11. Oktober: Ende Oktober wird Volker bei den chinesischen Drachenfesten in Nanchang, Wuhan und Yangjang das Team NoLimit vertreten.
10. Oktober: Report of the kite festival in Hsinchu/Taiwan is online.
08. Juni: Short report of the kite Festivals in Weifang, Xian and Hegdar Venice in China are online.
09. Mai: Short report of the Cervia Kite Festival with pictures and video is online.
20. April: Pictures and short report of kite tour Pasir Gudang - Johor Bharu - Satun are online
7. April: Sven und Volker are on tour to visit the kite festivals in Shanghai, Xian and Weifang in China.