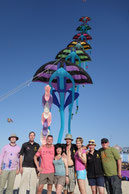 Willkommen auf der Homepage vom TEAM No Limit.
Bei Fragen einfach eine kurze Email.
09.Mai: Short report of the Cervia Kite Festival with pictures and video is online.
20. April: Pictures and short report of kite tour Pasir Gudang - Johor Bharu - Satun are online
7. April: Sven und Volker are on tour to visit the kite festivals in Shanghai, Xian and Weifang in China.
17. Februar: At the 21st. of February, Olli, Andy and Volker will leave for the kite tour Pasir Gudang - Johor Bharu - Satun.
14. Februar: Short Report and pictures of the International Kite Festival in Delhi are online.
15. Dezember: Short Report and pictures of the following three kite festivals are online: Xiamen, Wuhan and Shenzhen 
07. Oktober: Report of the North Taipei international kite festival.
05. Oktober: Short report and some pictures of the Bondi Beach Kite Festival (Sydney)
28. August: Kurzbericht vom Cuxkite-Drachenfest in Otterndorf.
30. Mai: Volker visited the Kite Festival Pingtung, Taiwan. See our short report.
3. Mai: Aerial and Ground photography from Kite Festival Cervia 2016.
21. April: Aerial photography from Kitefestival Berck sur Mer.
20. April: Kurzbericht zum Drachenfest in Berck-sur mer ist online.
16. März: Bereicht von den Drachenfesten Pasir Gudang, Malaka und Satun sind jetzt online.