Pasir Gudang & Satun International Kite Festival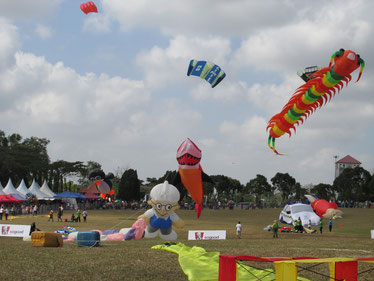 Olli and Volker participated in the 20th Festival Layang Layang Antarabangsa Sedunia Pasir Gudang (Pasir Gudang international Kite Festival).
After meeting in Frankfurt, Olli and Volker arrived just in time for the kite fliers briefing in Hotel Selesa in Pasir Gudang.
Volker joined this festival in 2003 and most following years, and Olli joined in 2006 and 2013 already.
The first flying day was warm as usual, a bit more than 30°C. Luckily, there was no rain, and until lunchtime, the kites had more airtime than during the whole festival 2012. In general, the conditions were pretty good for Pasir Gudang. In the evening of the 2nd day, we had a night fly with fireworks, greeting the Sultan of Johor, welcome ceremony, hooray and hellooo. 
With a bit of effort, Olli and Volker were always able to fly a kite as long as the wind gods agreed. 
The next days we travelled to Melakka, a nive city with a big history. 
After being a big city 600 years ago with connections to the chinese (
http://de.wikipedia.org/wiki/Zheng_He
) the city started ties with the portuguise, dutch and british "travellers". In general, the city hosts about 80 museums right now with a accelerating tendency. We visited 10% of those on one of our off-days.
After having a sightseeing trip throughout the country of Malaysia, we arrived in Satun/ Thailand. 
The great hospitality there, on the kitefield and during the parade in town us a great time. 
At the kite festival, we kept the kites op a much as possible. The field was quite full of 10kg sand bag anchors. Big thanks to the organisers, to supply soo many weights and additional trees to tie your kites to. 
As in 2014, the festival ended with a big kite wash for everybody who wanted to get the kites washed. Of course, Peter Lynn was one of those to use the thundery stormy rain to get his kites clean. And as ususal, it took him a bit of extra effort to get the kites dry for the transit back home. This year, he used the governors office building to dry the kites. One other, always flying man, Derek Kuhn, also used this opportunity to dry his loads of "slightly" wet fabric. 
To get it in on phrase: After 10 days of great hospitality and reasonable wind, we really enjoyed to participate in this interesting tour od Pasir Gudang, Melakka and Satun Kite Festival.