Bondi Beach (Sydney) int. Kitefestival 2016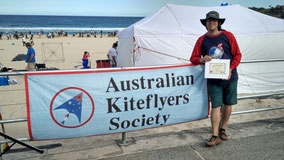 From
9.-11.09.2016
Volker joined the Bondi kite festival the 2nd time, after the first visit in
2006
was quite much washed out due to heavy rain and strong winds.
Thus year, the conditions were most of the weekend close to perfect, with flyable winds most of the time. The sun assured that we all got a suntan. Karen and Raymond got also a delegation from London to the event: Karl Robertshaw and Barnaby and also David Ellison.
From New Zealand, Craig and Debbie Hansen were accompanied by Perrin Muchoir from Auckland.
On Saturday evening Craig made a short presentation about his buggy trip across Mongolia and Karl gave a reflection about how to get things done in a good way. A musical entertainment was given by a Mongolian throat singer.
During the main day, the Sunday, 10 thousand's of visitors came to Bondi Beach to see the kites and of course to get some nibbles and drinks at the promenade.
It was definitely a great weekend organised by the Australian kitefliers association.
Thanks a lot that I got a 2nd chance to support the event.