North Taipei international Kite Festival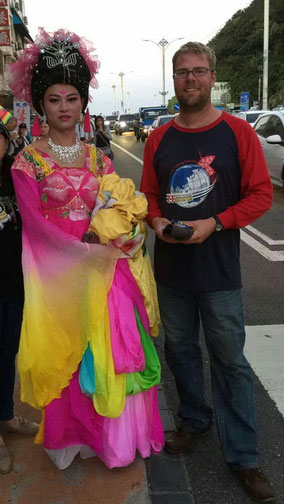 North Taipei international kitefestival
2016
From September
24.-26.2016
Volker joined the kitefestival in Baishawan once again. After the arrival dinner, all kitefliers with a need for "bigger" and safe anchors receive a coupon with a number. The number corresponded to one of the prepared 1qm sandbags at the beach. Thanks a lot to the organisers for this preparation. If needed, numbers could be swapped in the next days. Additional sandbags could be deployed in short time with the help of several helpers. Due to that preparation, on Saturday and Sunday, many big kites could be flown, with smaller kites filling the gaps. The precious space on the narrow (at high tide) beach was well used by the local teams from Taiwan (Taipei and new Taipei City, Yilan, Yunlin,  Shizi, Taichung,  Changhua and Penghu) and by the international teams from Indonesia=> Liannawati and Wendas, Singapore => John and Irene, Malaysia => Lee Poi Long and Chew, China => Tan Xin Bo, Japan => Mr and Mrs Sakuraba, Australia => Roger Martin and Frankie Flyn and Germany => Andreas Fischbacher and Volker Hoberg. During the night flying, Volker launched spongebob with internal LEDs.
During the visit of the officials, i.e. mayer Eric Chu of new Taipei City, the sky was packed with kites, small and big. Lollipop drops, stunt kite shows (2-line and 4-line) and ground displays like spinning bols gave the best possible impression of the diverse kite world.
On the Monday after the event, a bus tour to the local market of Juifen and stops at cake and tea shops were followed by tourist attractions of Taipei: the Sun Jat-sen  memorial hall (founder of the Republic of China) and Taipei 101 ( worlds tallest building for a couple of years). On Tuesday unfortunately a taifun followed, giving the kitefliers a good impression about the limits of flyable winds (sustainable wind of 150 kph with stronger gusts and heaps of rain).
Thanks once more to the organisers, Kevin and Joe, for this event.