International Kite Festival Antarabangsa Pasir Gudang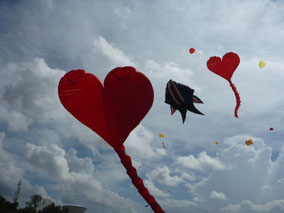 International Kite Festival Antarabangsa Pasir Gudang
From 22.2.2017 -27.2.2017
Olli, Andy and Volker participated in the Pasir Gudang Kite Festival.
After Olli joined 2 and 4 years ago, Andy and Olli joined the last time in 2006. Volker joined most of the years since 2003.
Meeting many friends from all parts of the world, this event is always a good start for the new season.
During some
periods
of the event, the wind was a bit tricky (very light), but with some effort, kites could be kept up most of the time.
Few rain torrents were refreshing, and the kites became washed clean as a side effect.
On the Sunday evening banquet, Volker had the honor to give a speech on behalf of the kite fliers. That included to sit on the officials table too, including a large variety of delicious malay foods.
On Monday after the event, most kite fliers visited Forest City, a vast development project in the waters between Malaysia and Singapore. After a short introduction about the project, everybody was keen to check the showroom apartments. How many flats were sold that day… Nobody knows.