International Kite Festival Cervia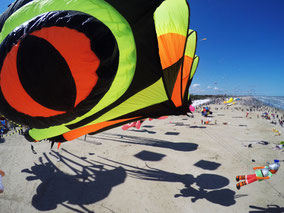 A very small delegation of the NoLimit-Team visited the Kite Festival in Cervia, which our Group participated for many, many years.
But Isabel, Andy, Volker and Christian got support from our friends Robert from aufwind extreme and Frank (Steini) from Drachenflöhe and this cooperation was again a great sucess.
As usual, the organisation was perfect and the very international variety of the kite flyers and artists were amazing.
Two special events beside the field and all adventures around were this year supported by Michel Gressier with an Exhibition of his kites in the "Magazzini del Sale"  and the Group of the CiRcO PaNiKo with a very dynamic show with artistic, music and slapstick.