Hsinchu/ Taiwan International Kitefestival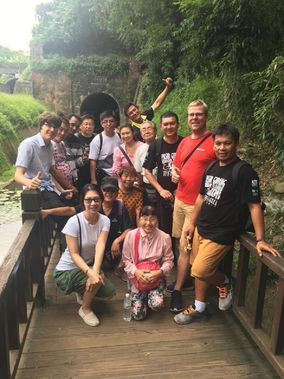 Volker participated from 25.8.-27.8.2017 in the international Hsinchu Kitefestival in Taiwan. 
Being one of the younger festivals in Taiwan, the event draw on both flying days huge crowds to the fishing harbour of Hsinchu. 
The kitefield was well equipped with nearly 20 big sandbags and many smaller sandbags to tie the kites to. Perfectly prepared, with a stable breeze, many kites were in the air the whole day. A big advantage was the kitefield was close to the sea, but not on a sandy beach. That lowered the risk of sunburns, and walking on grass is less tireing than on sand. And after the event, no sand was hiding in the kites to make them heavier on the flight back. 
The proximity to the big fresh fish market allowed to by fresh sushi and other snacks. 
Talking about snacks... Taiwan is paradise. Many small stalls were selling variations of BBQ, ice cream, fresh fruits, chou doufu, mango ice, bobble tea, local crafted beer and much more.
On the monday after the festival, the international kiters joined a guided tour to the local villages and had a walk in a former railway tunnel close to Miaoli. 
Thanks a lot to the organisers Joe and Kevin Cheng of Modern Design