Johor Bahru Kite Festival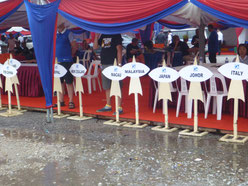 Johor Bahru Kite Festival, 28.2.2017-1.3.2017
Adjacent to a boy racer festival, the kite fliers could fly their kites in Johor Bahru on the 28.2.2017 and 1.3.2017.
The place was not vast, but as only few people were motivated to fly, the sky was not very crowded.
This event was not only interesting to fly kites or to watch noisy cars, but also for a huge variety of local and international food.
The foodstalls around the kitefield offered many snacks, incl. Sushi, Pepper Steak, Crepes with chopped chicken feet, Takoyaki, Saté, Chicken bread, fresh fruits, many different soups, BBQ,          refreshing  Mojito… and much more.