Xian Kitefestival, 12.-13.4.2017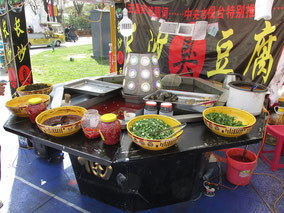 Before going to the Weifang International Kite Festival 2017, Sven and Volker joined the Xian Kite Festival at Daming Square.
The festival took place on a vast square, support by brilliant blue sky and sunshine. Perfect conditions... For light wind kites :-)
But with light wind kites, at least a bit of a show could be made. If necessary, kites were launched supported by electric scooters.
Luckily, there were several periods when kites could be kept aloft for a bit longer, without moving too much. During the lulls, the close food market invited for snacks like stinky dofu and delicious skewers from the BBQ.
The Daming Palace museum was visited incl. the small scale model of the ancient city.
During an additional day, some kiters went to see the world famous Terracotta Soldiers.
Being an former capital of China, Xian is a beautiful city with a huge city wall and several small quartiers were ancient architecture is on display.
Lots of local food was sampled at lunches and dinners, including local chinese water.
The Xian Kite Festival was definately a good opportunity to see and learn more about the beautiful sides of China.
Thanks a lot for the great hospitality.