2nd Doha Aspire Kite Festival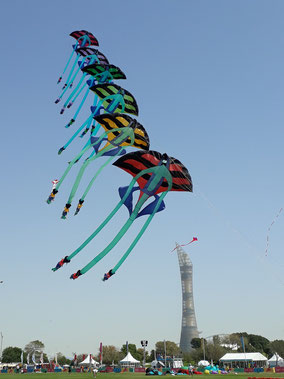 From 6.3.-11.3.2018, most of Team No Limit joined the Doha Aspire Kitefestival.  
The Aspire Parc area is a 30min ride from the centre of Doha. The 170*170m kitefield was well prepared with short cut green lawn, sandbags served as convenient anchors. As the surrounding olive and Adansonia trees around the kite field were rather short, the wind was not shielded by the trees. Thats well organised!!! If trees around kite fiels are planted, the trees should be short. Thanks a lot to Naisa and Nadia for this foresighted planning. 
There were some times of the days when kites could be only flewn by
some effort of the kiters, just to metion Tom Greenfield. Tom never accepted that wind might be to light. He kept his Revs and Flexifoils up all the time. 
Unfortunately, not all kites stayed up, due to some very competitive local kiters. Due to some manja lines, some kites came down quite quick, although the wind was OK. But that's another story.
Especially in the late afternoon and early evening, when the sun approached the horizon, more kites crept up. At the same time of the day, also more spectators appeared at the Aspire parc. 
As the wind conditions were sometimes difficult to predict, the shuttle bus schedule for the kiters adapted nearly instantly. Thanks a lot for this flexible organisation. Kitebags and sandbags were conviniently moved by helpers, the catering during the day was excellent. Bottled water was offered at the kite field from a friendly guy, who walked around with a tray. Sometimes that tray even contained fizzy sweet drinks or juices. 
Caterina and Claudio Capelli managed to define a very good group of kiters to join this event. 
Nadia and Naisa were really motivated and efficient to oganise all local arrangements to make this event a success and a memorable stay in Doha