Satun International Kite Festival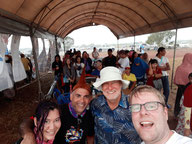 From 21.2.-25.2.2018 Volker participated in the Satun Kite Festival. 
As usual, well organised by Baew and Ron Spaulding, the event attracted many kite flyers from all over the world.
Arriving one day early, Volker went together with Roger Martin (Australia) Alex Shramko (Ukraine) and Guilherme Linares (Brazil) for a School workshop. After giving short intros about our kites in the classroom, we flew at the schoolyard kites to cheer up the pupils. 
The next days, all kiters flew at the huge flying field at the airstrip of Satun. Luckily, the air traffic control diverted incoming and leaving planes to airports nearby. Problems with kite eating trees become also less and less each year. Unfortunately, Craig Harbys suffered some serious thorn tree bites at the tail of his manta ray. The nasty thorn tree was waiting far downwind for this munch :-( :-( :-( 
The wind was very good this year, probably due to the earlier festival date compared with the last years. 
Some kids at the local kite painting workshop made real masterpices, pushing each other in even more detailed drawings onto the kites. 
At the monday after the festival, all kiters hopped onto a tour bus for a kayak trip in the closeby hills. After 3 days in the hot sun, that was a nice day for relaxing. 
The next day then, the transport to Pasir Gudang started. 
Thanks once more to the orga-team around Baew and Ron.