ARTEVENTO BACK TO FLY - International Festival Aquilone Cervia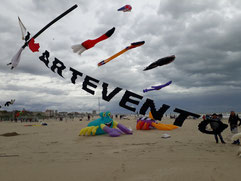 "Back to fly", was the motto of the 40th International Kite Festival in Cervia this year.

It was a very special kite festival, not because it was held this year 2020, but because it was the 40th time that this kite festival was successfully organized by Claudio and Catarina Capelli (Artevento).

Instead of the usual date from the end of April to the beginning of May (about 10 days over 2 weekends) the Kite Festival took place this year with many events at the end of the year 2020 from mid September to the beginning of October.

There were two main weekends (3-6 and 24-27 September), where the international character of this unique event was again brought to bear. In addition, a large program was put together for the whole family. Starting with the smallest ones, for whom a kite building workshop was offered, free kite flying on the beach for young and old from everywhere, exchange of experiences with international artists, the possibility to create impressive photos of the different kite constructions from all over the world inspired by the 100th birthday of the famous Italian photographer Frederico Fellini, parades of the participants with musical support under the applause of the spectators through the beautiful old town of Cervia.

Another artistic highlight took place at the same time in the "Magazzino del Sale". International artists from the fields of kite building and photography, such as Iqbal Husain from Pakistan, Eliana Mestriner from Italy and Fredi Schafroth from Switzerland, presented their creations in the very special atmosphere of this location. An impressive interplay of objects and photographs highlighted by a lighting concept, which rounded off the unique atmosphere, inspired the international guests and inspired many conversations.

The Artevento Back to Fly - Festival Aquilone Cervia is all about tolerance, understanding and respect, which is also represented by the subtitle "We are the Rainbow". This motto is valid for the small-scale kite flying on the beach, but also for the participation of the "Mediteranea Saving Humans", who took the messege from the beach in Cervia far out into the world. Many thanks for this to all participants and supporters and especially to the Capelli family, who have organized this impressive event for so many decades.