Festival Internationale degli Aquiloni e dell´Arte Eolica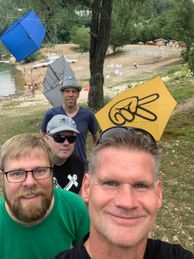 Castelli in Aria a motto that perfectly reflects the spirit of the International Kite Festival.

Artevento gathered an international selection of kite flyers in the mountains of beautiful Trentino. At the Lago di S. Giustina in Predaia with its magnificent landscape, both wind gardens and kites were able to inspire the spectators. The combination of wind chimes and artistic displays on the ground and in the air in combination with inflatable large kites integrated into the park landscape made up the spirit of this event. The countless spectators strolled through the park and enjoyed the colourful impressions on the ground and in the air. To complete the triad of park, air and water, a boat was also used to extend the airfield onto Lago di S. Giustina in low winds to the great delight of the spectators.

The historic castles in the surrounding area invited visitors to linger over Alain Mioquiaux's installation at Castelli Nanno. Here, floral interpretations of flowers were installed amidst apple trees in the courtyard of the Castelli and accompanied by music, inviting guests to enjoy an aperitivo with local specialities.

Team NoLimit was represented by Andy, Olli, Volker and Christian and it was a great pleasure for us to participate in this event, which took place for the first time. We thank Catarina with Claudio and Giuvanna for the great organisation.