International Kite Festival Cervia (Italien)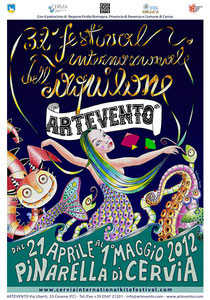 This year in Cervia we had a really good time. The wind and weather were perfekt (only one rainy day) and the time with the other kite flyers (more then 200 from around 30 countries) was amazing.
Every day some countries get the opportunity to show the kites in the main arena. The main arena was in the middle of the festival area and was a round space close to the moderation of Claudio Capalli (Organizer together with Catarina Capelli).
This festival is amazing because of the very artistic backround. The range of kites starts with mini kites in the size of an finger nail to very amazing painted kites or kites buills of birds feathers. To have such a broad artistic claim enable the spirit of the festival.
Two times we had a night flight which was at the second saturday "La Notte de Miracoli". Beside the kites were a very nice iluminated part on the ground at the beach. Lots of candles, lights and installations were prepared by the kite flyers.
Overall we had a perfect time and met lots of our friends again. Below we have some impressions of the event. Thank you Artevento for this amazing festival.
Cervia 2012 Photo´s, and click here for air photograph`s