Festival Layang Layang Pasir Gudang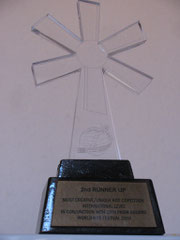 This year, Volker joined the Pasir Gudang kitefestival.
As in the past years, it was quite warm at the kitefield. But, in contrary to the past years, we had flyable wind during the whole event. Immediate at arrival at the kitefield, Spongebob-Pilot, a heart and Elmo were set up. Except of some tangles, the kites stayed up until the team of helpers of Politeknik Pasir Gudang pulled the kites in and packed them into the bags just before dawn.
This year, the local competitions were relocated from the main kitefield towards the stadium. That gave the kitefliers more space, as the big inflatables flew further upwind.
During the evenings, the kitefield was crowded with locals having a picknick, which gave a nice atmosphere for the night-flight.
Volker got the 3rd price for the most creative kite: Elmo
As usual, the event was well organised by Ismail and Anuar and Lee Poi Long.
Best regards
Volker
Report of the kite festival in Satun