Portsmouth Int. Kite Festival 24. - 25.08.2013 (UK)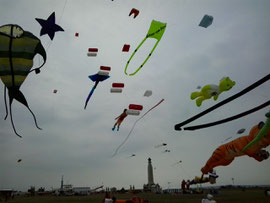 Cuban cigars, marijuana and sacred drums...all those things we didn't experience (at least not in Portsmouth) BUT we did had a very good time in south england with high temperatures and wind for the whole weekend.
Gill and John organized a very nice group of kite flyers for the Portsmouth Int. Kite Festival. The whole day were lots of kite in the sky. For sure lots of well known inflatable kites in the field as usual, but while searching between, a broad variety of different kites where shown to the visitors. At the main arena there was a nice timetable for the two days and one could take part in candy drop or teddy parachuting, rokakko fight, frog flying or cellular kite and for sure the amazing kite ballets of the stunt kite teams ending with the mega revoulution kite flying team.
Cause Volker and Christian flew to the festival, the limited luggage allowed to bring our four "Hargrave boxes" with one SFT, one midi heard kite, our pumpkin kite and some other smaller stuff to fullfill the 20 kg limit for each of us. The Kite festival is located direktly at the sea and there is a big camping provided on the field as well some hotels directly next to the field. So a nice surounding for a festival and everyone could have a lot of fun.
We see forward to visit this festival in the next year.