International Kite Festival Weifang, China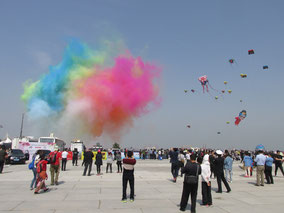 Sven and Volker joined for the first time the Weifang International Kite Festival, 15.4.-17.4.2017.
Sven and Volker were well prepared to visit the world capital of kites.
A short visit at Kaixuan Kite Manufacturer was the start

.
In the hotel, we arrived in the year 2004, 18th of march. That was at least the official time in the room,

according to the mounted clock. On saturday, 6 buses full
of kite fliers left towards the opening ceremony.
We just arrived in time for the daytime fireworks, local dancing, … and had to leave to the newly build kite field 15min later.
The new kitefield was well prepared with lawn, and an army of helpers w
as
busy to distribute many sandbags.
The wind was ok, no rain, so the Saturday was a good day to decorate the sky.
On Sunday, the wind was a bit lighter, but still flyable most of the time. Due to an announced rain in the afternoon, the event was closed down a bit in advance, at aroung 3:00 pm.
On Monday, Sven and Volker had to leave early to the Qingdao Airport, as our flight left Qingdao in the evening of the 17
th
.
Thanks a lot to  Zhiping Liu for inviting is to this interesting kite festival.