International Kite Festival Malaka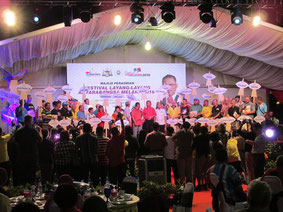 Between Pasir Gudang and Satun International Kitefestival, a 2-day event took place in Malaka.

Close to the local Klebang beach, the festival took place on a soccer field. 
The wind came from the inland towards the sea, most of the time at suitable strengh. 
Only one morning, the wind was quite strong and challenged the lines. 
The burglar kite manged a heist, dissapearing with a bag full of cash in the Strait of Malaka. 
He was never seen again afterwards. 
During the opening ceremony, a night-flying display was easily possible due to good wind. The kites were only pulled down just in time to get onto the bus transfer to the hotel. 
On the 3rd of march, some leisure time in the centre of Malaka was a nice occasion to relax and to shop some souvenirs. 
In the evening, a boat trip on Melaka river let us see the nice illuminated quartiers of the city.