International Kite Festival Pasir Gudang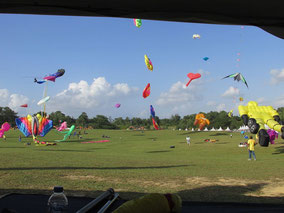 Pasir Gudang, 25th-28th of February 2016
This year, Volker visited again the Pasir Gudang International Kitefestival. 
Arriving on the 25th of february, the "heavy- wind day" was skipped. 
During the next days, exceptionally good wind (for Pasir Gudang standards) made flying possible without lulls. 
On Saturday evening, Spongebob won a 4th prize at the night flying. 
The next day, Spongebob went shopping for a blue Smurf-Burger and lemonade for the 50 Ringit prize. 
Monday was a rest-day which was used to make some small repairs to keep the Teddy in shape. 
Although the wind was not perfectly constant and caused some tangles between kites, the wind conditions were the best I ever witnessed in Pasir Gudang. 
Except of 3 times having a line cut, nothing was lost and no serious demages occured. 
A bowling competition on monday evening was a very good side-event with lots of fun.